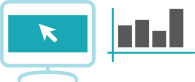 Simplified dashboard creation
The wizard functions as an expert system, taking control and guiding the user through the process by means of questions and answers, without the user having to worry about the complexity of the task.
In just a few easy steps, you can have a dashboard ready for use in your business, view existing dashboards,and promote dashboards to go into your production cycle.
Enable the power of our knowledge database
The wizard enables the production of powerful dashboards that meet management, operational or technology needs.
By asking the right questions, the wizard will offer the best match possible based on the result found in our knowledge database. Any dashboard template found can then be use immediately or the wizard can let you quickly customize one to better address your needs.